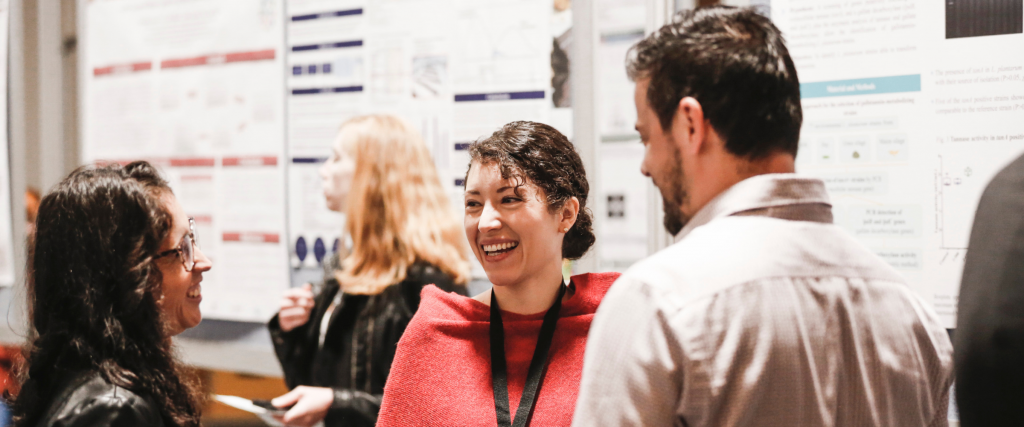 Students, postdoctoral fellows and research professionals: Showcase your work at the heart of the BÉNÉFIQ Innovation Expo!
The Quebec, Canadian and even international biofood industry, as well as the scientific community, are coming to meet you. Don't miss this opportunity to share your expertise and research!
Schedule
The posters will be accessible throughout the event. Poster presenters will be present to answer questions from the public from 12:30 to 1:30 pm on Wednesday October 4 and Thursday October 5.
Poster presentations
Guidelines
The title, abstract, and poster presentation must be in English;
The mandatory format for your poster is 90 cm (width) by 120 cm (height). The poster will be presented in portrait orientation. It is important to respect these dimensions because two posters will be displayed on each board, and space will be limited.
Contest for best student posters
Awards :

Best student poster – undergraduate or Master's students
Best student poster – PhD students or postdoctoral fellows
Jury's Mention for:

Best vulgarized communication
Best communicator
Best graphical and visual presentation
Potential for industrial valorization

To be eligible for the contest, the .pdf version of the poster must be submitted on the registration platform before 11:59 AM on September 24, 2023.
The awards ceremony for students and postdoctoral fellows will take place on October 5, 2023, starting at 4:30 p.m. at the Quebec City Convention Centre.
For questions, contact info@inaf.ulaval.ca
Oral presentations in 300 seconds | AQIA Program, October 5
Guidelines
Students and postdoctoral fellows wishing to give a non-technical oral presentation of their research project in 300 seconds must indicate their interest in the abstract submission form;
The oral presentation is of a maximum of 300 seconds (5 minutes);
Five (5) candidates will be selected based on relevance and quality of the abstract submitted;
Selected candidates will be contacted 10 days after the abstract submission deadline;