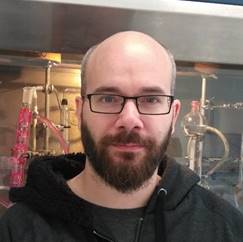 Simon Giret
Research and Development Director
SiliCycle /PurCann Pharma
Simon Giret joined Silicycle in 2017 as a postdoctoral researcher in collaboration with Université de Chicoutimi. His focus was on developing biomedical applications using silica nanoparticle technologies. In 2018, he transitioned into a permanent research position within the company.Since 2019, Simon has served as the Scientific Coordinator for SiliCycle's cannabis project. In this role, he oversees the coordination of R&D resources and acts as a liaison between various departments, including technology transfer, quality assurance, and management. Simon currently holds the position of Director of R&D within the SiliCycle / PurCann Pharma Group. Additionally, since June 2021, he has taken on the role of Controlled Products Research License Manager.
Over the course of his career, Simon has authored and collaborated on numerous scientific publications and has played a key role in the development of 7 patents.
Simon's academic journey includes:
• Postdoctoral Researcher at Université Laval (2015-2017)
• Doctorate earned at l'école national supérieur de chimie de Montpellier (2011-2014)
• Master's degree in Biomolecular Chemistry/Materials Chemistry from l'Université Montpellier II (2012-2014).